Household and Personal Property - Business Liquidations - Benefits - Farm Equipment and Livestock - Bankruptcy - Consignment Auctions - Estate Settlements - Appraisals
Business Liquidations & Inventory Reductions


There are many reasons people need to liquidate the contents of a house, warehouse, business, storage units, etc. Whatever the reason(s), we can assist in that process. We will work with you to customize the services to meet your needs.

You can consign your items to one of our auctions (additional fees may apply for us to pick-up/haul the items).
We can purchase the contents/items and remove the items from the location (e.g., farm, home, and businesses).
We can conduct the auction on the premises.
We can meet with you to provide other solutions to meet your particular needs.

Don't let large volumes of unsold inventory clutter your warehouse or business - liquidate that inventory. We offer auction liquidation services as well as complete "buyouts" of your inventory.

Auctions are the most efficient and fair means of liquidating an estate or business. Think about it -- from automobiles to fine art -- the method preferred by most is the auction method.
Real Estate, Personal Property Sales/Liquidations and "Transition" Services
Now more than ever, family members may need assistance to help in the transition of homeowners who may be moving to another location; downsizing to move into an assisted-living environment or nursing home; or, when the unfortunate occurs, liquidating assets to settle an estate upon death of a family member.
At times, this can be a daunting tasks -- such as cleaning out the residence, liquidating assets, and getting the residence, home or farm ready for auction or sale. Our "transition" service goes beyond the "traditional" auction service and helps individuals with the entire process of liquidating an estate,
including real estate.
We do not provide legal advice and you should consult with your attorney regarding your responsibilities in settling an estate. Our goal is to help you in the process. Basically, we provide you the help and assistance needed to facilitate the liquidation process (both for personal property and real estate) so you can move on to other things in your life. We provide assistance and can provide guidance for the following:
Real Estate and Personal Property Auctions - We are affiliated with several real estate auction marking firms and can provide you recommendations and options to meet your real estate needs. Consider the fast, effective and efficient auction method to sell your real estate.

House and Garage/Shed clean-outs (or in some cases "buy-outs")
Roll-Offs for trash/items of little to no value

Recommendations on demolition service and material/debris removal
Business/Farm Liquidation and Transportation Service
Recommendations and guidance for special/unique circumstances
Recommendations and Assistance with Transportation and Storage of Items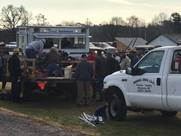 If you are planning to downsize your farming or business operation give us a call to discuss your needs. We can conduct auctions on your site or work with you to move your items/inventory to another auction location (including our own facility). We have formed a great network with other large construction/equipment auction firms and can discuss solutions to meet your needs.

We have been involved with horse (and horse equipment) and livestock auctions over many years. This includes managing and conducting the Southern Maryland Horse Auction; serving as auctioneer for several livestock auctions for local fairs and 4-H clubs; and working at other horse and agricultural-related auction events.

Give us a call to discuss your farm, agriculture and business liquidation needs - we look forward to working with you!

Benefit and Fund Raising Galas and Events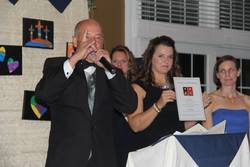 We are available to serve as your auctioneer(s) for your next benefit or fund raising event. Ronnie currently holds the "Benefit Auctioneer Specialist" designation awarded by the National Auctioneers Association. He has vast experience in conducting benefit auctions for a variety of organizations and purposes including: Private Schools, Volunteer Fire and Rescue Departments, non-profit organizations, youth organizations and others. If you are coordinating a benefit or fundraising event, you understand the cost and effort that is associated with such an endeavor -- caterer, band/music, decorations, advertising, etc. These costs are certainly necessary but none compare to the benefits you will receive for a professional auctioneer who is trained and has the experience to "make you more money". If needed, we can also provide "emcee" services to keep you event running smoothly.
Don't want to burden your organization's staff members? We are also available to provide a full staff for auction check in/out, auction clerking and cashiering services.
As part of this service, we also provide you consulting services to share with suggestions on increasing your revenue such as incorporating "money-generating" games and events; special appeals and items suggestions for the auction.
Audio and Visual Support - We offer our sound systems for your use as well. Even if we don't provide our professional auctioneer/event support services, we can assist you in acquiring professional sound and video equipment.
Below are just some of the organizations that have realized MORE income as a result of my services:
St. Mary's County Nursing Home Foundation
Southern Maryland Invitational Livestock Expo (SMILE)
Grace Christian Academy
Mechanicsville Fire Department and EMS Auxiliary
Seventh District Fire and EMS Departments
Golden Beach Civic Association
Sotterley Plantation - Education Programs
St. Mary's County Business, Education and Community Alliance, Inc. (BECA)
Mechanicsville Optimist
St. Mary's County, Calvert County, Prince Georges County Farm Bureau

s

Hughesville Volunteer Fire/EMS Auxiliary
LaPlata Volunteer Fire/EMS Auxiliary
Leonardtown Volunteer Fire Dept. - Auxiliary
National Wild Turkey Federation Auctioneer
St. Mary's Bryantown School
Mother Catherine Spalding School
National Potomac Yacht Club
Ducks Unlimited
St. Jude
St. Mary's County Women's Softball and SMC Hall of Fame
Several private fundraising events for special purposes.

Sound Equipment, Video and Other Event Support

| | |
| --- | --- |
| Need a sound system? If our sound system is available, we do offer our sound system for your event (even if we do not conduct your auction or emcee your event) for a reasonable fee. We can also provide you recommendations to you and your team if other items are needed such as caterers, DJ services, video/visual monitors, etc. | |
Contract Auction Service and Support


With a staff of professionally trained auctioneers and staff, we are available to serve as a "contract or hired" auctioneers and provide auction and auction-related support for your event. We have experience in selling farm equipment, supplies, and tools; produce; nursery items; 4-H livestock sales; household and personal property and more.
Personal Property Appraisals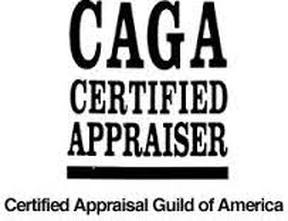 As a certified personal property appraiser, I provide appraisal services typically needed for estate settlements or property disbursements.

Member of the Certified Appraisers Guild of America (CAGA)
With members in all 50 US states and 6 Canadian Provinces, the Certified Appraisers Guild of America is North America's # 1 trainer of personal property appraisers. On an annual basis, it trains more personal property appraisers than any other organization in North America.The Certified Appraisers Guild of America (CAGA) is a professional accrediting organization providing certification of personal property appraisers. The Guild has been instrumental in helping to standardize the personal property appraisal profession. The members of the Certified Appraisers Guild form a network of valuable appraiser contacts throughout the United States and Canada.

The Certified Appraisers Guild of America confers the professional membership designation 'CAGA' to recognize the completion of the appraiser's certification education. Members are professionals who have completed the certification process. In addition, the members have made a commitment to the Certified Appraisers Guild's Code of Professional Ethics.

Call Farrell Auction Service, LLC now to make an appointment or to discuss your personal property appraisal needs.



Call us via email at farrell.ronald@gmail.com
Testimonials and Feedback from our Clients

"Thank you so much for all the work and assistance you provided to my mother and me after the death of my father. My mother and I were faced with an overwhelming task to liquidate a huge volume of woodworking tools and equipment as well as other personal property we needed to liquidate."

"Ronnie met with us to go over the process, options and solutions that met our needs and provided us with exactly what we needed in our time of transition. He was very fair and honest through the entire process, which we appreciated. The compassion , understanding and service he provided to us was exceptional! In every way, Ronnie and his team exceeded our expectations! Highly recommended to all." - Kim G. & Karen R. - St. Inigoes MD

"Ronnie is top-notch. He is so understanding and provides a great service with phenomenal results. I was amazed of what he was able to accomplish in removing the many tools, equipment and other items from my garage and shed after the death of my husband. I was even more amazed by the results of what was sold. He makes every effort to sell the items for the most amount of money possible – I was amazed by the amount of money I received. I would highly recommend Ronnie and his auction services!" - S. H. - St. Mary's County, MD

"Thank you, thank you, and thank you. ".....a great success." "Woohooooooooo!!!!!" - L.M. SMB