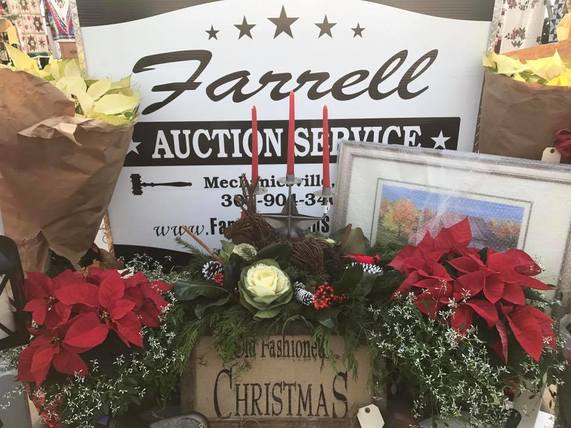 Southern Maryland
Farm and Country Christmas Auction

A Southern Maryland Community Tradition


Held every year on the First Saturday of December

December 1, 2018
8:30 am

Auction held on the
Russell Brothers' Farm
located in beautiful
St. Mary's County Maryland
Address is
25111 Colton Point Road, Morganza, MD

Auction preview will be held on

Friday, December 1, 2017
beginning at 2 pm.

Come by for dinner (including Southern Maryland Famous Stuffed Ham Sandwiches and other items) while previewing the large selection of items!


Located across from Chopticon High School.

A special, unique auction experience hosted jointly by
Russell Brothers' Farm, LLC
and Farrell Auction Service, LLC.

PLEASE NOTE: Due to the large number of items we offer at this auction, we will be selling with SEVERAL auctioneers at one time, throughout the day - please be prepared for this arrangement.




Now Accepting Quality Consignments of:
Farm Machinery
Tractors
Equipment
Tools
New Handcrafted Furniture and Crafts
Quilts
Quality Antiques and Collectibles
Vehicles (with good Title)


***NOTE***
To be included in early advertising and marketing, please contact us as soon as you determine you have items to consign. We will be accepting information on consignments "year-round"!

Please --

NO JUNK, USED TIRES, APPLIANCES, WORN-OUT FURNITURE, HAZARDOUS MATERIALS.

Please help us in keeping this auction offering good, quality items. Auction staff reserves the right to reject items of little to no value or items not suitable for this auction.

New Handcrafted Furniture and Crafts
Most of our new furniture and crafts will be delivered a few days prior to the auction - we may not have ample time to get all pictures loaded to this site.


QUILTS


We expect a nice selection of handcrafted quilts and other items. We expect to have over 30 quality, handcrafted large quilts!
Farm Machinery, Tools and More

As with most auctions, many items are not consigned until the week of the auction. We typically have a large selection of quality tools and misc. farm equipment/items. We expect to have a selection of new farm/garden items including: buckets, shovels, rakes, hoes, wheelbarrows, garden hoses, thermometers, aluminum grain shovels, outdoor grills and more.
Live, Evergreen Wreath, Centerpieces
and other Decorations



We expect over 500 live evergreen wreaths, centerpieces, and decorations, as well as Poinsettias!
Antiques and Collectibles
We expect to offer a great selection of quality antiques and collectibles. If you have good quality antiques/collectibles (especially "farm/country"-type items) please give us a call now.
LOCATION

Located in the heart of beautiful Southern Maryland in St. Mary's County. The auction site is located on a working farm in Morganza, Maryland. It is located at 25111 Coltons Point Road, Morganza, Maryland 20660. It is across from Chopticon High School.



Local hotel accommodations include Best Western in Leonardtown (about 10 minutes from auction site) - and several other hotel accommodations located in California, Maryland (about 15-20 minute

s from auction site).